Again, many thanks to a kind gentleman at Warner Brothers Online who sent us another email with some promotional information about the B5 season two boxed set. We are allowed to post these on our web site so that is exactly what we are doing.
DVD: The Coming of Shadows (Season 2)
Format: DVD -- Region: 1,2 -- Rated: NR -- Length: 960 minutes -- Released: Apr 2003 (May 2003 for R2)

Amazon.com Price: $19.99 -- List Price: $59.98 -- Save: $39.99 (67%) -- Usually ships in 24 hours

Amazon UK Price: £14.98 -- List Price: £56.99 -- Save: £42.01 (74%) -- Usually dispatched within 24 hours

DESCRIPTION:
For more information about this DVD Boxed set, please visit the main Season Two Boxed Set page. It includes technical information as well as quotes from JMS.

ADDITIONAL INFO:
The "Gag Reel" is for real! It is actually an Easter Egg (a hidden component in the DVD) and is about three minutes long. There is a brief musical introduction and the segment mostly contains dialog goofs and other blunders the cast had. It features Bruce Boxleitner (Sheridan) the most as well as Claudia Christian (Ivanova), Jerry Doyle (Garabaldi) and Peter Jurasik (Londo). To get to the Gag Reel, put in disc #6 and from the main menu:
Select "Special Features"
Select "The Universe of Babylon 5"
Select "Data Files"
Cursor down to "Project Lazarus"
Press left (You should get a highlighted "5" logo appear)
Press select to view the Gag Reel
Promotional Ads

Be sure to check out Warner Brothers' official Babylon 5 site. In the meantime, we have the official press release (Word format) available on our site for viewing as well as some promotional ads you can put on your own web site!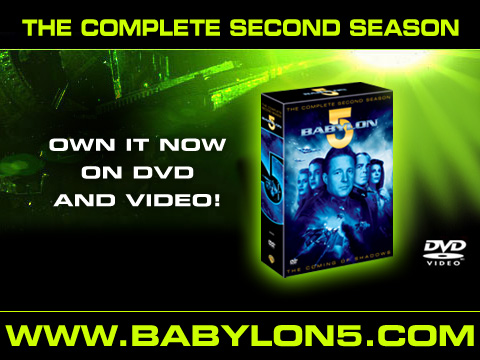 Promotional Clips of DVD Extras

The following media players are recommended to view the clips below: RealOne Player, QuickTime Player and Windows Media Player.
Production Photo Stills

These are some production photos from the series that were probably used to promote the series or VHS release. They don't seem to be high enough quality to be screen shots from the DVD release. Beware of spoilers!
| | | |
| --- | --- | --- |
| Points of Departure | Revelations | Geometry of Shadows |
| A Distant Star | A Spider in the Web | Soul Mates |
| A Race Through Dark Places | The Coming of Shadows | All Alone in the Night |
| Acts of Sacrifice | And Now For a Word | Knives |
| Confessions and Lamentations | Divided Loyalties | The Long, Twilight Struggle |
| Comes the Inquisitor | The Fall of Night | |