DVDs


Latest News



More News >>>


If you are interested in purchasing one of these items (or just want more information on them), just click on the icon that represents the availability from a particular distrubuter.

Please read our About Us page for more details about buying products from The Abyss.
Feedback

Participate in our forums or read our old Guestbook entries. Our most recent feedback:



Again, many thanks to a kind gentleman at Warner Brothers Online who sent us another email with some promotional information about the B5 season four boxed set.
DVD: No Surrender, No Retreat (Season 4)
Format: DVD -- Region: 1,2 -- Rated: NR -- Length: 960 minutes -- Released: Jan 2004

Amazon.com Price: $41.99 -- List Price: $59.98 -- Save: $17.99 (30%) -- Usually ships in 24 hours

Amazon UK Price: -- Not yet released

DESCRIPTION:
For more information about this DVD Boxed set, please visit the main Season Four Boxed Set page. It includes technical information as well as quotes from JMS.

ADDITIONAL INFO:
The "Gag Reel" is actually an Easter Egg (a hidden component in the DVD) and is about three minutes long. There is a brief musical introduction and the segment mostly contains dialog goofs and other blunders the cast had. To get to the Gag Reel, put in disc #6 and from the main menu: (these are from season 3 so they should be very similar for season 4)
Select "Special Features"
Select "The Universe of Babylon 5"
Select "Data Files"
Highlight "The Battle for Babylon 5"
Press down (You should see a highlighted "5" logo appear)
Press select to view the Gag Reel
Promotional Ads

Be sure to check out Warner Brothers' official Babylon 5 site. In the meantime, we have the official press release (Word format) available on our site for viewing as well as some promotional ads you can put on your own web site!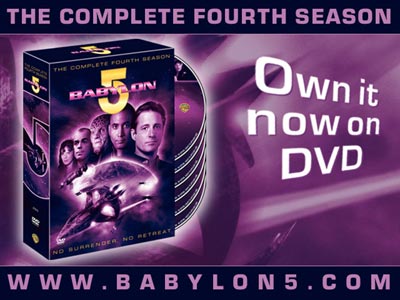 (Click for larger image, 640x480, 77k)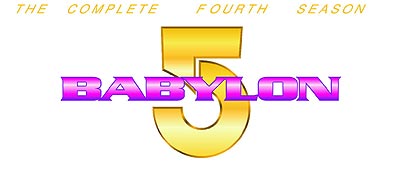 (Click for larger image, 1633x704, 82k)
Production Photo Stills

These are some production photos from the series that were probably used to promote the series or VHS release. They don't seem to be high enough quality to be screen shots from the DVD release.
| | | |
| --- | --- | --- |
| The Hour of the Wolf | Whatever Happened to Mr. Garibaldi? | The Summoning |
| Falling Toward Apotheosis | The Long Night | Into the Fire |
| The Illusion of Truth | Atonement | Racing Mars |
| Lines of Communication | Conflicts of Interest | Rumors, Bargains and Lies |
| No Surrender, No Retreat | The Exercise of Vital Powers | Between the Darkness and the Light |
| Endgame | The Deconstruction of Falling Stars | |



Featured




Wheel of Fire - Season 5 Boxed Set
(Babylon 5 DVD)