A kind gentleman at Warner Brothers Online recently sent us an email with some promotional information about the B5 season one boxed set that we were allowed to share on our web site. They sent us a bunch of links to the promotional clips of the extras that will be on the DVDs as well as images from the episodes.
DVD: Signs & Portents (Season 1)
Format: DVD -- Region: 1,2 -- Rated: NR -- Length: 990 minutes -- Released: Nov 2002

Amazon.com Price: $19.99 -- List Price: $59.98 -- Save: $39.99 (67%) -- Usually ships in 24 hours

Amazon UK Price: £15.98 -- List Price: £44.99 -- Save: £29.01 (64%) -- Usually dispatched within 24 hours

DESCRIPTION:
For more information about this DVD Boxed set, please visit the main Boxed Set page. It includes technical information as well as quotes from JMS.

ADDITIONAL INFO:
There is an Easter Egg (a hidden component in the DVD) on the Region 1 set which is a trailer for the first season which aired between the pilot episode "The Gathering" and the start of the series. To access it, put in disc #6 and from the main menu:
Select "Special Features"
Select "The Universe of Babylon 5"
Select "Data Files"
Scroll down to any of the 5 categories on the right side and push the right arrow
You should get a highlighted "5" logo appear
Press select to view the trailer
Promotional Ads

Be sure to check out Warner Brothers' official Babylon 5 site but in the meantime we have the official press release (Word format) as well as some promotional ads that were used.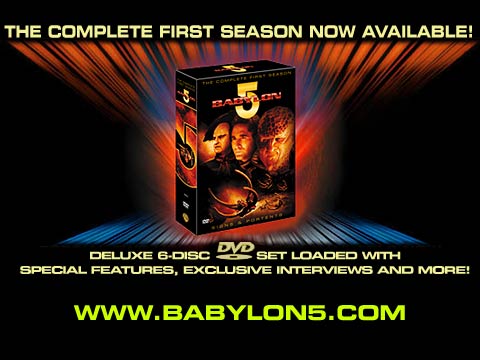 Promotional Clips of DVD Extras

The following media players are recommended to view the clips below: RealOne Player, QuickTime Player and Windows Media Player.
Production Photo Stills

We initially thought these were screen shots from the DVDs themselves, but they are not. They are production photos from the series that were probably used to promote the series or VHS release. What is really odd is that there is a photo from "The Gathering" but it is not available on the Boxed Set. Also, someone pointed out to us that the photo for "Chrysalis" shows Delenn -after- she emerges from the cocoon but in that episode, she just went inside it. Puzzling indeed.
| | | |
| --- | --- | --- |
| The Gathering | Midnight on the Firing Line | Soul Hunter |
| Born to the Purple | Infection | The Parliament of Dreams |
| Mind War | The War Prayer | And the Sky Full of Stars |
| Deathwalker | Believers | Survivors |
| By Any Means Necessary | Signs and Portents | TKO |
| Grail | Eyes | Legacies |
| A Voice in the Wilderness (Part 1) | A Voice in the Wilderness (Part 2) | Babylon Squared |
| Quality of Mercy | Chrysalis | |