DVDs


Latest News



More News >>>


If you are interested in purchasing one of these items (or just want more information on them), just click on the icon that represents the availability from a particular distrubuter.

Please read our About Us page for more details about buying products from The Abyss.
Feedback

Participate in our forums or read our old Guestbook entries. Our most recent feedback:



| | |
| --- | --- |
| | |
Again, many thanks to a kind gentleman at Warner Brothers Online who provided us with more promotional information about the B5 season three boxed set. We also got a link to a neat little screen saver with a bunch of B5 images.
DVD: Point of No Return (Season 3)
Format: DVD -- Region: 1,2 -- Rated: NR -- Length: 960 minutes -- Released: Aug 2003 (Oct 2003 for R2)

Amazon.com Price: $19.99 -- List Price: $59.98 -- Save: $39.99 (67%) -- Usually ships in 24 hours

Amazon UK Price: £14.98 -- List Price: £56.99 -- Save: £42.01 (74%) -- Usually dispatched within 24 hours

DESCRIPTION:
For more information about this DVD Boxed set, please visit the main Season Three Boxed Set page. It includes technical information as well as quotes from JMS.

ADDITIONAL INFO:
The "Gag Reel" is for real! It is actually an Easter Egg (a hidden component in the DVD) and is about three minutes long. There is a brief musical introduction and the segment mostly contains dialog goofs and other blunders the cast had. To get to the Gag Reel, put in disc #6 and from the main menu:
Select "Special Features"
Select "The Universe of Babylon 5"
Select "Data Files"
Highlight "The Battle for Babylon 5"
Press down (You should see a highlighted "5" logo appear)
Press select to view the Gag Reel
Promotional Ads

Be sure to check out Warner Brothers' official Babylon 5 site. In the meantime, here are some promotional ads you can put on your own web site!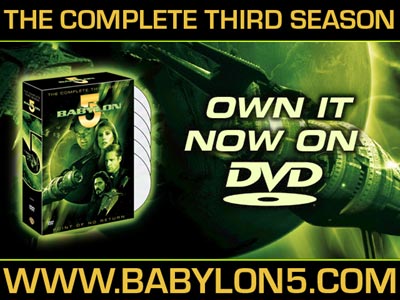 (Click for larger image, 640x480, 300k)


Promotional Clips of DVD Extras

The following media players are recommended to view the clips below: RealOne Player, QuickTime Player and Windows Media Player.



Featured




Season 1 Boxed Set
(Jeremiah DVD)