Rising Stars


Latest News



More News >>>

Feedback

Participate in our forums or read our old Guestbook entries. Our most recent feedback:










Since the first three acts of Rising Stars was so sucessful, Top Cow commissioned some spin-off mini series written by Fiona Avery. She is quite familar with JMS' style of writing and universe and has gotten critical aclaim from her own mini series, "No Honor", as well. The first spinoff is called "Rising Stars: Bright" which takes a look at Matthew Bright and his rookie years as a police officer in the NYPD. It is scheduled as a three-issue mini series.
The second spin-off will also be penned by Avery and features Laurel Darkhaven, the telekenetic who became a CIA assassin who was featured in issue #16. The 5-issue mini series is called "Rising Stars: Untouchable" and will have artwork by Rick Mays. The comic has been resolicited for April 2004 (previously due out August 2003) due to the artist's hectic schedule and they want to make sure it comes out every month.
NOTE: Comics are listed by issue number from oldest to newest.
#1: Mercy
Author: Fiona Kai Avery -- Published: Feb 2003 -- Format: Single Comic
Rising Stars: Bright

DESCRIPTION:
In the hit series, Rising Stars, it is mentioned that at one time, Matthew Bright ran away from Pederson and, under an assumed name, became a member of normal society and a police officer. Join us as Matthew tells this story in his memoirs and learn how a Special can shine brightest when they're just being human.

MONICA'S REVIEW:
I have yet to read this comic...

JMS AT B5 SAID:
JAN.6.2003
[Rising Stars: Bright], by Fiona Avery, is due out in February, I think. I know that Top Cow is planning other follow-ups to the Rising Stars story, but I'm not directly involved in the writing of them due to my contract with Marvel. One of them may follow the events of Laurel Darkhaven, the teek who ended up a CIA assassin.

AVERY AT COMICON SAID:
OCT.9.2002
What I like best about this series is the sensitive and realistic portrayal of human beings captured in extraordinary circumstances. I hope to convey some of that in Bright.

It is a more detailed account of the story recounted in Issue #4 by Cathy.

We'll see some Poet and a little Ravenshadow, in a quirky way, but this is mainly about Matthew.
#2: Authority
Author: Fiona Kai Avery -- Published: Mar 2003 -- Format: Single Comic
Rising Stars: Bright

DESCRIPTION:
Matthew Bright is still living under the assumed name of Brendan Miller, and making close friendships with Frank and Jess in the precinct, when a new serial killer case erupts in the NYPD. Matt really takes the case to heart upon discovering that the serial killer has Specials in mind whenever he causes new carnage in the streets of suburban New York. In the second part of three issues, Matthew's secret identity as Brendan Miller is about to be ripped from him and his true nature as a special is revealed.

MONICA'S REVIEW:
I have yet to read this comic...
#3: Civilian Casualties
Author: Fiona Kai Avery -- Published: Apr 2003 -- Format: Single Comic
Rising Stars: Bright

DESCRIPTION:
Part 3 of 3. Matthew Bright has been set-up by The Shepherd of Death, the serial bomber terrorizing the streets of New York. Familiar faces from Matt's past surface as the world of his former self, Brendan Miller, collapses around him. But his precinct isn't ready to turn their back on him yet, and in a surprising show of unity, they reinstate Matthew to the ranks of Police Officer. But can Matthew solve the case of The Shepherd of Death before the ultimate price is paid?

MONICA'S REVIEW:
I have yet to read this comic...
#1: The Story of Laurel Darkhaven
Author: Fiona Kai Avery -- Published: Apr 2004 -- Format: Single Comic
Rising Stars: Untouchable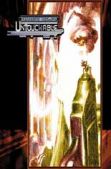 DESCRIPTION:
Laurel Darkhaven was a girl who's power seemed pretty inconsequential growing up. She had the ability to manipulate small objects with telekinesis and the smaller the object, the easier it was for her to manipulate it. The CIA recruited her after high-school, promising she would serve her country with pride, but what she discovered in her work in the shadows was anything but honorable. Forced and blackmailed into performing wet-works operations, Laurel's one purpose in life became discovering the true identity of her dishonorable employer at the CIA for a justified revenge. This is her story, from high school to the CIA and at the end of her life.

MORE INFO:
Top Cow's Rising Stars: Untouchables, a five-issue series originally solicited bi-monthly to start in September, is being resolicited as a monthly title to start in April 2004. "Rather than put out issue #1 now and have fans wait months until the next issue is ready, we figured we'd wait, give Brent plenty of time to do several issues, and resolicit it so fans can follow it on a monthly basis," said editor Renae Geerlings.

MONICA'S REVIEW:
I have yet to read this comic...

OTHER EDITIONS:
Series artist Brent Anderson, will be doing a limited edition cover available in four formats with a total print run limited to 2500 copies.

AVERY AT FIONAVERSE SAID:
SEP.3.2003
Finished the rough draft of Rising Stars: Untouchable #5 tonight. It's the final script. The world will call it "Anti-American" I'm sure. It's very anti-CIA-sneaking, and anti-Assassination, and anti-American-Greed in foreign policy. Heh. I'll be skewered, but what the hell, it was fun to question authority.

AVERY AT NEWSARAMA SAID:
APR.10.2003
I'll be looking at Laurel's enlistment as a young, naive recruit and her transformation to a wet-works operative, basically an assassin. Things like when she first lost her killing virginity, her critical assignments, the men in her life, some secrets she uncovers about history and governmental corruption, double agents, she's also framed and blackmailed at one point, keeping her back against the wall at all times due to her inability to trust anyone after some key players misuse her trust - all that stuff, in five issues.



Featured




Amazing Spider-Man TPB
(Unintended Consequences (Vol. 5))


Individual issues of the comics cannot be purchased through the normal book retailers like Amazon.com®. Instead, you can order the individual comics from our recommended and reliable internet retailers.

Also, many thanks goes to JMS Comics for being a great resource! (Note: They are getting a bit outdated)

Finally, a lot of work has gone into the B5 Spoiler Junkies site. It is an informative site but be warned ... it contains LOTS of spoilers!